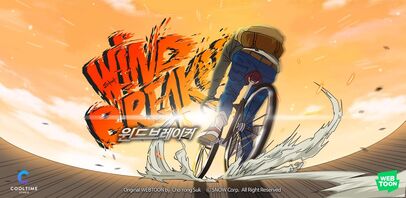 Welcome to the Windbreaker Wikia
[
]
Hello! Welcome to the Wiki for the Korean Webtoon on Naver
"Wind Breaker!" Here you will find anything regarding the characters, plot, and the bicycles featured as well as their real life counterparts!
Synopsis
[
]
Jay's the perfect student. He got straight A's and he's the student body president. But after being coerced into joining the school's biking team, the Hummingbird Crew, he discovers a whole new world outside of studying. What new adventures will he face outside the comfort of his textbooks?
Characters
[
]
Hansol
Kay Jo
Yumi
and more...
Crews
[
]
Zephyrus Crew was a large team of riders consist of students from various schools, founded by Minu himself before he left the crew with June. It is now lead by TJ but it seems like the crew has fizzled out in popularity and the only members that are seen are TJ and his two school mates.
Manga Crew
[
]
A group of misfit "otakus" bound together by their love for nerd culture. They are often looked down upon as weirdos by other competition and society as a whole. They were able to win the respect of the audience due to how hard they fought in their last race.
Monster Bull 13 Giant Crew
[
]
Monster crew is a team that consist of the "beast" rider called Monster. This team is one of the most feared team in the League of Street championship, feared for their power. Both Monster and "The Tank" attend the same high school.
The crew working for Sungho Choi. Wooin, the leader of Sabbath interacts closely with Sungho. Throughout the plot line they were seen doing Sungho's biddings in regards to the competition. Recently, they agreed to test out the newest version of the dope in their race against the Tridents. They also seem to like playing dirty during their races.
Ghost Crew
[
]
Lead by Hwangyeon Choi, Sungho's younger brother, the Ghost crew runs more like a gang rather than a bike crew.
Light Cavalry Crew
[
]
Lead by genius rider Owen Knight. Other known crew mates are Noah and an Harry Shepherd. They are world famous in the biking world, known to rack up to 2 million views on a single video.
Maka & Lama Crew
[
]
One of the two crews that started street riding culture in New York and helped spread it's popularity worldwide
MSH Crew
[
]
One of the two crews that started street riding culture in New York and helped spread it's popularity worldwide
League of Street
[
]
League of Street is a biking race/championship that is open to any riders across Korea. The grand prize of 100,000,000 Korean Won, or roughly $87k USD, is what catches the eyes of many teams alongside pride and experience. According to Sabbath's leader, Wooin, the winner of the competition has already been decided.
School
[
]
Apart from being a member in a biking crew. This story also revolves around their lives in school. The schools mentioned;
Sunny High School
[
]
Most of the Hummingbird crew attend this high school. Besides the competition, this school is another prominent location.
Gunn Industrial High School
[
]
Vinny and Sung are the top dogs of the school, and Gilbert is Vinny's self-imposed right-hand man. It seems to be an underprivileged school with delinquents running amuck. Student can be seen fighting and breaking school property.
Mountain High School
[
]
TJ and his friends on Zephyrus crew attend this high school but they seem to skip class a lot.
Yonggong Elementary School
[
]
The Humming bird's biggest fan attends this school.
Green Pine High School
[
]
Dax, the Sena otaku, and Cheolu Kim, the One Piece fan, attend this school. Dax, or Deokgu, is a victim of constant bullying from two of his classmates in particular.
Chungsan High School
[
]
Monster and his crewmate attend this school. Monster's math teacher commented that he should have attended a physical education school instead, after discovering the weights and workout equipment in his bag. Template:Clr
KAKAO

Foxtoon

Ridi

KakaoPage

Lezhin

Naver

---
Photos and videos are a great way to add visuals to your wiki. Find videos about your topic by exploring Wikia's Video Library.